After reviewing the design trends for last year, it's clear we're spending A LOT more time at home these days.
Now, more than ever, the kitchen really is the heart of the home.
What are the top kitchen trends?
Typically, the kitchen is where the action is, and accordingly, as all interior designers will tell you, kitchen design is a huge industry.
People congregate in the kitchen for everything from fancy meals, to Tuesday Night Taco Takeout, to a late midnight snack.
But, regardless of whether or not you actually cook in your kitchen, the design for this space plays a huge part in creating the overall aesthetic of your home.
Accordingly, kitchen trends will factor in here, just as much – if not more than other interior design trends for your home.
Looking at the way kitchen design is moving, the following are the most popular trends and kitchen design ideas for 2022 and beyond.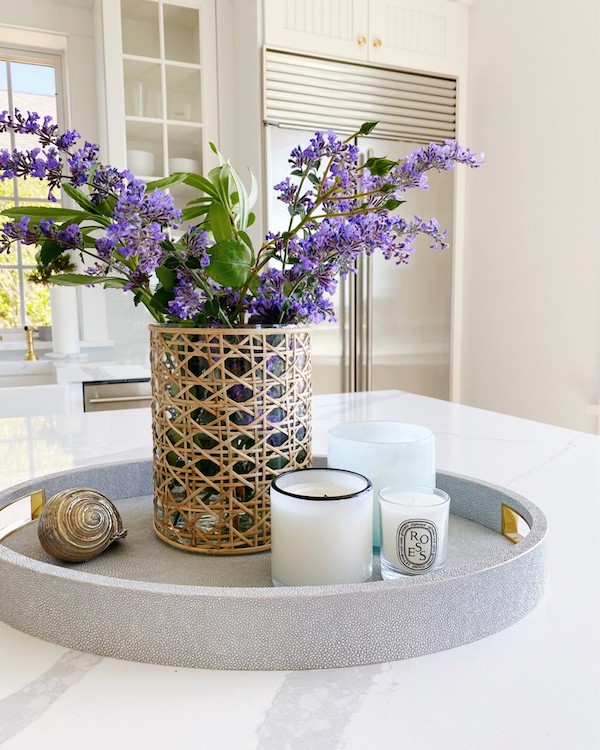 White cabinets and Quartz countertops in our latest beach house renovation project.
Quartz Countertop Materials
Granite and marble kitchen countertops have been all the rage for years, but many decry the upkeep that comes with them – (find out about our marble counter tops here).
Given the upkeep and price of marble counter tops, we decided to look into Quartz counters after several kitchen design experts convinced us to look into it.
These have the "look" of white marble, which is exactly what we wanted for our beach house renovation.
Quartz countertops require no sealing and maintain their looks for years.
We're SO happy with this decision (seen above).
It's likely we'll see more people selecting this option over granite in the coming year.
Quartz is certainly a growing trend we will see in more and more homes.
Sustainable Kitchens
Not necessarily talking about having a compost pile out in the backyard, but a lot of people are moving towards eco-friendly trends and options for their kitchen renovations.
It's a great trend to see, and it's likely that as options for sustainable and up-cycled materials expand, more people will be incorporating them into their homes.
A few new current options include low emission products, eco friendly kitchen appliances, bamboo and other repurposed materials.
Using vintage, antique and inherited pieces in your kitchen project decor is another top choice for sustainability!
Cabinet Colors: A Pop of Color
Gone are the days when only neutral colors were the epitome of chic!
More and more often people are choosing to introduce a pop of color to their kitchen design.
We're seeing more and more different colors either through ​colored appliances​ or by painting their kitchen cabinets a bright statement color.
This is a perfect way to introduce a fun bit of quirkiness into your kitchen color scheme without major commitment, especially if you're only painting the upper cabinets or walls.
And if you're looking for an even more easily reversible option, ​removable wallpaper​ works too!
Mixed Metals
Brass hardware might have made a comeback in 2018​, but mixed metals are coming in with a force as we move into 2022.
They offer an organic look that gives more personality than a uniform color selection.
People have been integrating this trend into their design recently, and from the looks of things, it's on the rise!

Backsplash Statement Walls
Rather than using a backsplash to just protect the wall, people are turning their backsplashes into decor!
Having tile backsplash climb the wall to enhance the design, rather than look at it as a necessary precaution has opened the door to a host of new design options.
Here you can think beyond the classic subway tile (although this popular material is still my favorite!) and create a visual focal point.
It's a great way to build a statement wall into your kitchen design rather than break up your wall color with a backsplash.
New Kitchen Trends Conclusion
There's always SO many different ways you can update your kitchen.
If you're looking for more traditional kitchen trends which will stand the test of time, be sure to check out this post!
But one common theme for all of these trends is that they encourage out of the box thinking with fun elements and natural materials to enhance your own kitchen layout.
Go with your gut and lean into whatever trends and classic choices make your kitchen feel the happiest.
If you do end up going with any of these kitchen trends, let me know! I'd love to see it.
If you're curious, you can always see more of our current home here.
I hope you found these examples helpful!
If you have any other questions, please shoot me an email or leave it in the comments below.
ADDITIONAL HOME DECOR INSPIRATION
If you're looking for even more home inspiration, be sure to check out these other posts by clicking on each title below-
Benjamin Moore Swiss Coffee Paint Review
The best cream wall paint colors
Sherwin Williams Accessible Beige Paint Review
Favorite white paint colors for the home
The best paint colors for kitchens with white cabinets
The best white exterior paint colors for your home
Kitchen Pendant Lighting Fixtures: Tips and Trends
The Ten Most Popular Kitchen Cabinet Paint Colors
A few more things…
Design lovers! Have you joined our fun and VERY helpful design Facebook group?
In this group – members share photos with their design questions and dilemmas from their own home.
We all chime in with our best advice!
We also share our best sources and tips – so it's great for those hard to find items and pieces.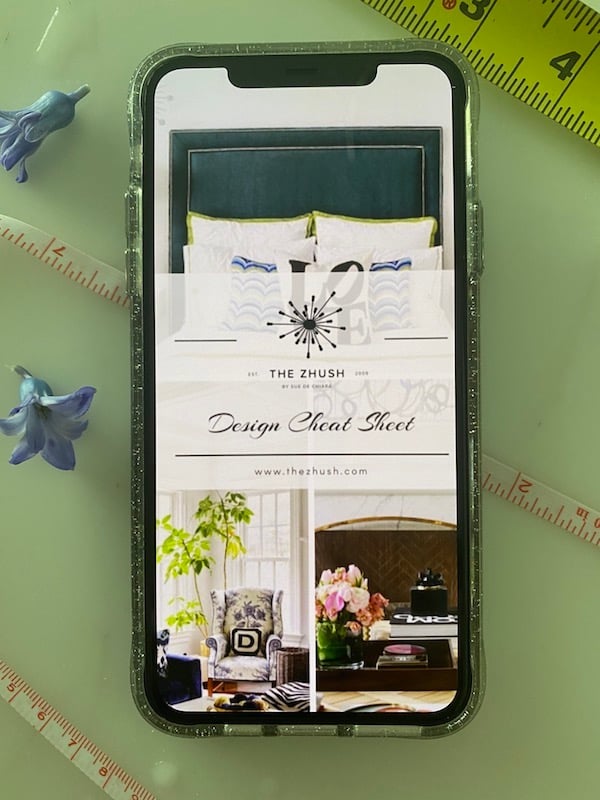 Lastly ~
FOR EVEN MORE GREAT DESIGN TIPS, SIGN UP FOR MY  EMAILS  AND RECEIVE MY FREE, SUPER HELPFUL DESIGN CHEAT SHEET!
It's loaded with all sorts of quick tips and handy measurements.
Sign up below to grab that, because it'll be super helpful!
Thanks!